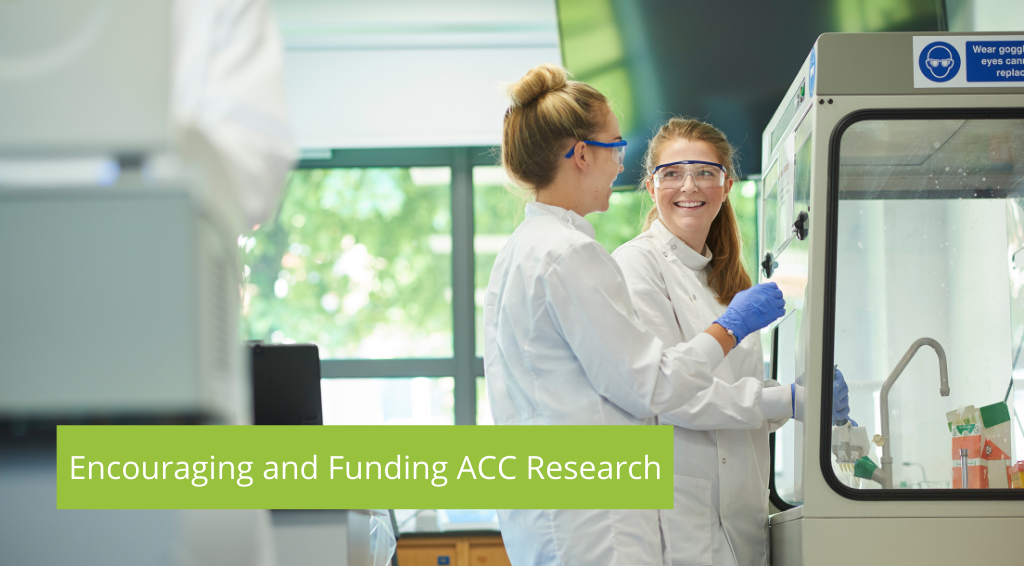 Research Awards for projects aimed at ACC are administered by AMEND.  AMEND wishes to support research and is provides grants when funds allow to enable medical researchers to supplement an existing project or pump-prime new research ideas. Applicants must be registered members of AMEND and the successful projects must be specifically directed to the study of endocrine tumours, within the context of the Charity's remit (MEN1, MEN2, MEN3, SDHx, ACC, spMTC).  Awards are only available to projects carried out within the United Kingdom and Eire.  Each project grant is usually worth up to £10,000, although larger amounts have been awarded.  Commonly, up to 3 project grants are available annually, although this can vary according to surplus funds available.
2022 Research Award Deadline – 31 August, 2022
Specific Awards Available for ACC: 
The Elliot Dallen Award for ACC Research forms part of the annual grants programme for 2022. The Elliot Dallen Trust was set up by the family and friends of the late Elliot Dallen, who had ACC. The Elliot Dallen Trust has granted AMEND a fund of £10,000 specifically for research into adrenocortical cancer. This grant will be available for three years from 2022.
The Cerys Akarca Award for ACC Research provides an additional £5,000 for 2022, thanks to fundraising by Cerys's sons Danyal and Dilhan.
For more information about applying for a Research Award, visit the AMEND website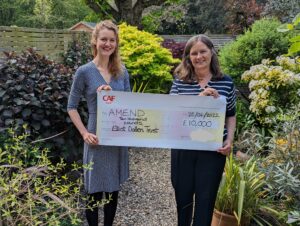 Annabel Dallen (sister to Elliot) presenting the 2022 cheque to AMEND CEO, Jo Grey, for the 2022 Elliot Dallen Award for ACC Research.
2021 Research Award Recipient
Dr Cristina Ronchi (Birmingham): Targeted DNA sequencing of circulating cell-free DNA for prognosis and surveillance of adrenocortical carcinoma (£9,645)
Project Lay Summary: 
Tumours of the adrenal gland are very frequent in the general population with a prevalence of 2-3% and are mostly harmless. In the rare case that they are cancerous, known as adrenocortical carcinoma (ACC), they are highly aggressive. About half of the patients who have an ACC removed see the tumour return within 2 years, and the majority die within 5 years of diagnosis. Recent developments in genetics, biochemistry, and imaging techniques have set new standards for the diagnosis and treatment of ACC. Nevertheless, there are still critical unmet clinical needs for patients with ACC:
No markers are available that can help to predict clinical outcomes at the time of the diagnosis
Follow-up requires frequent imaging that is expensive, results in increased radiation exposure and cannot always answer diagnostic questions.
In my research, I aim to address these needs and to improve the clinical outcome of patients with ACC through the establishment of tailored medical management for individual patients. In the last 2 years, I developed a method for the evaluation of small fragments of genetic information (=DNA) released from tumour cells into the blood. Now, I intend to investigate a larger cohort of patients – before and after surgery – to further validate the clinical utility of this method. Specifically, I will collect blood samples from new patients with ACC. The levels of the DNA fragments will be correlated with clinical data and standard radiological imaging reports (i.e. tumour load and disease progression) and, eventually, specific alterations will be investigated in DNA fragments. The results will be analysed in order to identify markers that could 1. Better predict the clinical course of ACC patients, 2. Recognize disease relapses and/or progression and 3. Monitor the response to therapy earlier and better than standard imaging. The same gene panel will also allow us to identify those patients that might benefit in the near future from innovative anti-cancer drugs. This method might represent a cheap and quick alternative that could simultaneously better distinguish patients with a good or bad prognosis as well as improve the monitoring of the disease. Due to the rarity of ACC and generally low circulating quantities of these DNA fragments, no studies were able to demonstrate the clinical utility of this method until now. I have access to one of largest series of well-characterized ACC patients in the UK and to cutting-edge technologies, and I have longstanding expertise in genetic studies of adrenal tumours. This makes me ideally suited to perform these analyses. This study will serve to underpin further recruitment of samples within the UK and Europe and major funding applications.
For more information about the Research Awards and previous awards for ACC projects, visit the AMEND website